Launchy2Skype
2011-08-09 Important information!
Starting with Skype version 5.3.0.120 Skype has stopped shipping Extras Manager (read more) which is essential for Launchy2Skype to work.
To continue using Launchy2Skype, please download the latest version of Skype
that still includes Extras Manager.
Launchy2Skype is a plugin for a very popular application launcher Launchy.
With the help of Launchy2Skype plugin you may use Launchy to open Skype chat windows of your friends: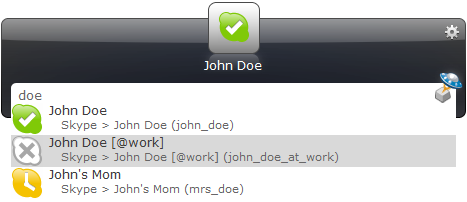 Launchy2Skype also supports opening group chats: